The first edition of the virtual Green Building Expo has been a success

Canada's premier virtual trade show for green building
Virtual Trade Shows are quickly gaining popularity among exhibitors and event marketing professionals due to their relatively low cost and high rate of return. The ability to generate leads directly from your office without having to incur the cost of travel and lodging is appealing for many companies, which allows for a wider range of diversity among exhibitors and attendees.
For exhibitors, Green Building Expo, the initial Canadian virtual trade fair for green buildings, has been an opportunity to highlight their leadership and commitment to sustainable building. It has also been a chance to showcase their green offerings to a laser-focused group in the green building industry.
Having received over 1,500 visits to date, including visitors from Canada and other countries such as United States, Germany, Italy, Romania, India, Lithuania and Great Britain (and coupled with the upward trend in event registrations), it seems highly likely that this will be Canada's biggest virtual trade show yet by event participation and lead generation.
For sponsors and exhibitors, the platform provides built-in tracking, lead management and attendee profiling to help exhibitors identify high-potential leads based on the level of their engagement with company representatives and booth content. The ample branding space in the virtual landscape is fully utilized by incorporating clickable corporate logos that are tactfully placed in all high visibility spots at the expo.
November 1, 2017 was the "live" day when visitors and exhibitors interacted through audio, video and text messages. Product manuals, demos, brochures, posters, videos and other valuable informational material were conveniently downloaded by visitors.
In the virtual auditorium, Svend De bruyn and Erik Janssen from Toronto and Region Conservation (TRCA) presented Attending Net Zero webinar – An Introduction to Heat Pumps and Photovoltaics, with numerous visitors in attendance.
For those who couldn't make it to the November 1 "live" show – or want to see it again – the individual booths and webinars will remain active for six months and available online 24/7. The fair's exhibition booths function as a website and the exhibitors can still have the visibility and availability of their information.
For attendees, our Green Building Expo is free.
The following are some testimonials from both exhibitors and visitors:
"The organization and the setup of this virtual expo were amazing and I think that this first edition was a success. The platform was great at simulating a real expo hall. A good variety of people visited my booth so that I was able to network with many interesting companies. I loved the sustainable nature of this event: no brochures to print, no booth to build, no travel. Overall an amazing and completely new experience! Congratulations to organizers and we wish you more success at the second edition!"
Nicholas Varias
Dipl. Arch.,CBCO
President
Flexsola International Development Corporation
"Kudos for marketing! The expo proved to be a great venue for my new wall product. For the first time I could showcase what I have been working on for the past 26 years. How great is it that your green building expo site will continue to showcase my Structural Cellular Forms SCFs for the next six months. Site visitors have commented on the good quality of the presentation."
Daniel Charlton
Principal
Charlton Building Concepts Inc.
"For me it was exciting to meet and exchange contact information with so many people from the green building network. High quality exhibitors were easily reached directly from my PC. Walking around the expo was easy and fun. The webinars were extremely informative and easy to attend, just in one click, without stressing over travelling problems. A smart way of doing business! A great experience for all involved and I'm looking forward to the next such event. Thumbs up!"
Virgiliu Petre
OAA LEED AP MBA DEA M.Arch
Principal
Eco Revival Consulting
The 2nd edition of Green Building Expo will take place "live" on November 1, 2018 from 10 a.m. to 6 p.m. Eastern Time and will continue for three months after that.
To learn how to become a sponsor or exhibitor, contact Giulio Marinescu, Executive Managing Director at 416.250.0664 or giulio@green-building-expo.com
Follow us on Facebook, LinkedIn, Twitter and Instagram for updates.
The first Canadian virtual trade show for green buildings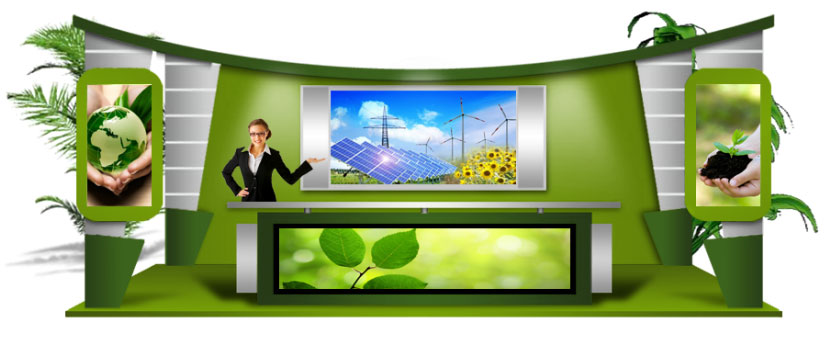 It's no surprise that Green Buildings + Architecture magazine is leading the way in cost-efficient virtual trade show technology for the green construction industry.
After all, part of the magazine's mandate is to alert readers and advertisers to the latest sustainable development trends.
The countdown to Canada's first virtual trade show for the green construction industry is underway and the wheels are already in motion on a number of fronts.
Utilizing cutting-edge virtual trade show technology, we are pleased to announce Green Building Expo. This first-of-its-kind show will be held in "cyberspace" starting November 1st, 2017 and running for six months.
What we have planned is an affordable way for you to engage all of Canada in the latest green building endeavours in very interesting and cost-efficient way. The event itself will celebrate Canada's greenest and most successful building projects. Each exhibit will showcase sustainable construction solutions to the right attendees in a timely and cost-efficient manner. Participants will be able to exchange contact information with Canada's most active green building professionals. Green Building Expo is budget-friendly for participating exhibitors and free for attendees. Our coverage area is Canada, but being held in cyberspace, exhibitors can reach out to a global audience to generate a high volume of leads and prospects.
Green Building Expo will bring together technology, materials, products, and service providers, developers, general contractors, architects, consultants, engineers, interior designers, builders, specifiers, project managers, green investors, bankers, building owners, facilities managers, along with municipalities, expert organizations and other key stakeholders of green building projects; saving money and eliminating travel time, construction, logistics, and associated carbon emissions with physical meetings and trade exhibitions.
Instead of being up and running for only a few days, similar to a traditional trade show, the individual booths will remain active for an entire year and available online 24/7. When not stuffed exhibition booths function as a website and the exhibitors can still have the visibility and availability of their information.
And additional exhibitors can join at any time during the duration of the show.
Relevant, compelling, engaging events with live webcasts of expert speakers will be added throughout the year to motivate participation on particular days around particular themes.
Bolstered by advance print and online media and advertising, Green Building Expo will enjoy a social media strategy using Facebook, LinkedIn, Twitter and others that will actively promote the event beforehand and during the event as well as provide follow up activities.
Attendees and exhibitors can easily interact through text, audio and video capabilities. The functionality allows both one-on-one and group conversations, thus allowing for meaningful discussions.
Product manuals, demos, brochures, posters, videos and other informational material can be conveniently downloaded by visitors to be saved permanently.
In the auditorium, exhibitors can deliver stunning webinars, which can be hosted live or made available on-demand by visitors even after the event is over. They can now enjoy greater control in delivering their webinars and drive higher levels of visitor engagement using social media integration.
Studies show that over 40 per cent of traffic at virtual events originates from mobile devices. That percentage is growing, making the mobile experience absolutely critical for success at events hosted online. Thus, Green Building Expo offers a mobile-friendly version for the event, packing it with interaction tools so that mobile visitors can remain equally engaged and productive.
The mobile experience comes with a comprehensive chat application, allowing mobile visitors to interact seamlessly with exhibitors. This affords visitors even more flexibility as they can keep communicating even when they are on the move. Furthermore, the chat experience is intuitive and familiar, allowing visitors to focus on the conversation, rather than figuring out how it all works.
Exhibitors will have access to the following information:
Number of visitors to their booth;
Number of clicks on their brochures, products, videos, and posters;
Contact details for each visitor;
Downloaded content;
Site traffic, unique and total visits;
Number of visitors contacted in chat.
For more information about the event go to www.green-building-expo.com, or contact Giulio Marinescu, Executive Managing Director at 416-250-0664 or by e-mail giulio@green-building-expo.com
A no-brainer – virtually
Switching from a costly traditional trade show to a more affordable cyberspace model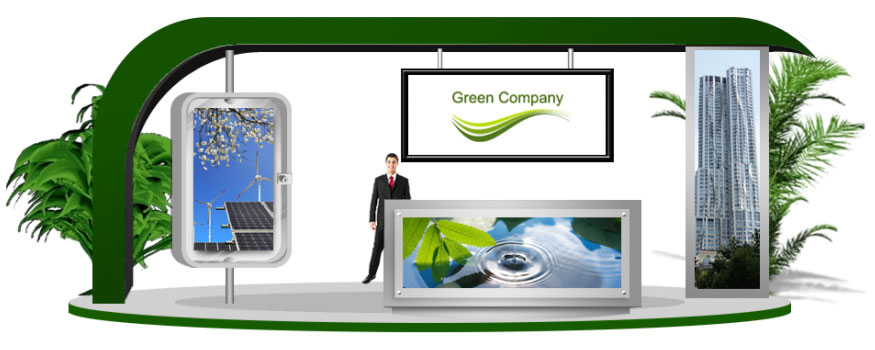 It's a Catch-22 situation for every business owner – to shell out the expensive investment needed for participation in traditional trade shows … or not.
Until recently, physically setting up a booth, and all the inherent rental and promotion costs, could easily reach $100,000. For the largest firms, perhaps that was manageable, but for small and medium businesses those expenditures were becoming unmanageable.
Now, however, with the advent of virtual trade shows, business owners can instantly get much more bang for their buck – and all from the comfort of their offices, without the financial burden and logistical inconvenience of the traditional option.
In many ways, this shift is an industry game-changer, with more budget-friendly costs, and a green stamp of approval to boot. The virtual alternative eliminates the need for transportation of people and materials; that alone reduces a company's carbon footprint.
For the uninitiated, virtual trade shows are designed for online use, designed to resemble a convention centre, with lobbies, networking lounges and exhibit halls. There are booths for showcasing products and services. An online attendee can view demos, peruse literature, or chat with sales reps in real time. Often, there are keynote speeches or webinars, videocasts and podcasts, as well.
With companies these days adhering to green, sustainable policies, the virtual trade show concept is catching on in a big way. This year, in fact, Green Building & Sustainable Strategies magazine is presenting the first Canadian virtual trade show for green and sustainable building. Called Green Building Expo, it is utilizing cutting-edge technology. It's definitely budget-friendly and free for attendees.
Companies, traditionally, participated in trade shows to generate new sales leads. People attended conferences for content and networking. The same results, as it turns out, can be attained by becoming involved in virtual alternatives such as the Green Building Expo.
And in many ways, beyond the financial implications, a virtual show has much more going for it. A physical trade show, to recap, can be a hassle for a large corporation and a major logistical nightmare for small and medium players. At a physical convention, hundreds of vendors and thousands of attendees are jammed into a cramped, noisy space. Often, the "little guy" gets dwarfed by the "big boys," armed with substantial war chests, premium advertising and booth space, as well as high-profile keynote presentation exposure.
Now, thanks to computer technology, the playing field is level. There's no doubt we'll see explosive growth. It's not a stretch to suggest that the virtual event market could replace the traditional conference and trade show concept.
Some of the more obvious advantages to virtual trade shows include:
The green effect: Not only does the virtual model reduce a company's carbon footprint on the front end, but it also eliminates the production of materials that will go to waste after an event.
Making perfect sense: It's logical to utilize new technologies and trends — after all, that's what you're encouraging your buyer to do. So it goes hand in hand with sustainability.
Tracking lead generation: Virtual trade show platforms make it easy to provide prospects with downloadable materials, and many offer built-in tracking, lead management, and attendee profiles so you know exactly who is downloading what.
Saving money: For those who've been to trade shows, you know it costs a lot, both to sponsor booths and to attend. Among the expenditures are paying for employee time, travel, lodging, and meals, not to mention the various outlays needed for booths. Then there's internet, printing, electricity and shipping. There is absolutely no question that exhibiting at a virtual trade show costs significantly less.
Better time management: Virtual trade shows not only allow you to save time on travel, but they often house your virtual booth for up to a year after the actual event. That means that the money you pay for your space isn't buying you a few days, it's buying a more long-term marketing platform.
The cool factor: Booths can link directly to an exhibitor's Twitter, LinkedIn, Facebook or YouTube social media accounts. Impossible to dispute the value of that.
Moreover, virtual events are quickly evolving, becoming much more user-friendly. No longer do you have to understand complex computer functions to take part. While the basic computer skills of sponsors and attendees have likely progressed over the years, the virtual trade show developers have made the experience much more accessible, as well.
For additional information about the first Canadian virtual trade show for green and sustainable building, contact Executive Managing Director Giulio Marinescu at 416.250.0664.
Web / www.green-building-expo.com / giulio@green-building-expo.com
How to plan a successful virtual trade show – a guide for exhibitors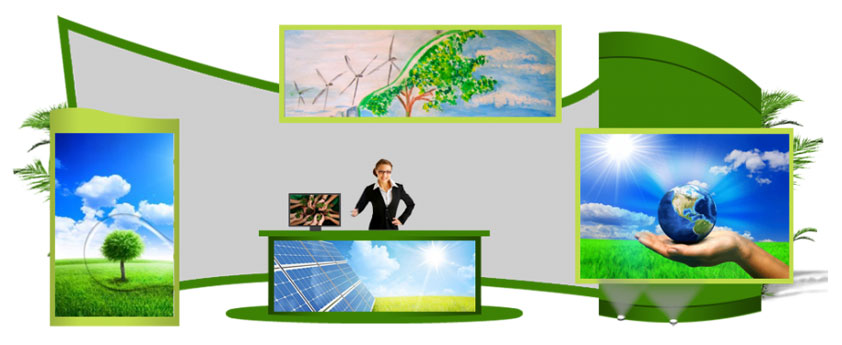 Yes, there are substantial savings when switching from traditional physical trade shows to virtual online alternatives – thousands of dollars to be exact.
But that doesn't mean opting for a virtual event is a walk in the park. Planning and executing a virtual trade show, or online event, is not easy. In fact, it pays to do your homework and well worth the effort to give any virtual show the same level of attention as conventional fairs.
Although there is no physical contact, the virtual shows certainly offer participants the opportunity to connect with clients and business partners without having to meet them in person. As such, while saving time and money, they are able to promote their products or services, exchanging valuable information digitally.
But there still needs to be attention to detail. Successful online trade shows should offer the content, networking and product specifications associated with a traditional fair, with the added convenience, however, of access from any device, anywhere in the world.
If your company intends to set up a booth at a virtual fair, there is a checklist to follow. Sure, there aren't any of the headaches inherent in traditional options – like booking airline flights, hotel stays, printing, and a myriad of other related expenses – but hosting a virtual booth still requires a marketing strategy.
Here are a few considerations for those contemplating setting up a booth at a virtual show:
1) Establish goals: Before any plans are put in place, coordinate as a team exactly what you are trying to achieve. It's the same principle as for a physical event. Next, flesh out the details.
2) Aesthetics: Take the time to create a visually appealing booth. It may not be a skillset your team has traditionally called upon, but good procedures are worth getting in place. Think colorful, high contrast, and high impact – work with the show's managing director to determine the best way to grab browsers' attention. Don't forget to ask about the 'add-ons': additional promotional opportunities both inside and outside your booth. This can be anything from banners elsewhere within the virtual show to pre-event e-mail blasts, intended to make your participation even more personal and memorable. And make sure your logo is in a prominent place.
3) Prepare content: With a virtual event, there are fewer limitations to the quantity and quality of the content you can provide. Extended videos are just a click away for any virtual visitor. That said, you're not just competing with other booths, but with an attendee's day-to-day workload as well, and if you lose their attention for a moment, attendees can slip away. As such, a virtual booth does not mean you can scale back on the value proposition, but quite the opposite: content needs to be clearer and stronger than anywhere else.
4) Host a social booth: People will stay longer and engage more if attendees communicate with each other at your booth. Rally potential attendees on social media, encouraging them to explore your Facebook or LinkedIn presences. Offer anything from random prizes to advanced games. Provide your audience with a running start and they'll be much more engaged with your conversations throughout your campaign. Attendees who have engaged will likely return to check buzz around your booth.
5) Give yourself enough time: Things don't always progress at the pace you'd like. Whether it's deliverables from an exhibitor, graphics from the creative agency or an e-mail list from your marketing department, insert sufficient wiggle room into the timeline. One of the biggest dangers of virtual event execution is the rush job to get to the finish line.
Before committing to a virtual trade show, however, you can get a feel for the experience by contacting the show's managing director for more details or a demo walk-through. Once on board, all you'll have to do is make a quick phone call to lay out the general design of the booth, and then you'll be able to log in to the show, and upload information, including logos and company materials.
For additional information about the first Canadian virtual trade show for green and sustainable building, contact Executive Managing Director Giulio Marinescu at 416.250.0664.
Web / www.green-building-expo.com / giulio@green-building-expo.com