Why Exhibit?
Green Building Expo is your opportunity to highlight your leadership and commitment to sustainable building. It's also a chance to showcase your green offerings to a laser-focused group, including builders, architects, renovators, consultants, engineers, specification writers, building owners/developers, general contractors, industry personnel, building operations, manufacturers, distributors, suppliers, governmental and regulatory authorities, utilities, international guests and more.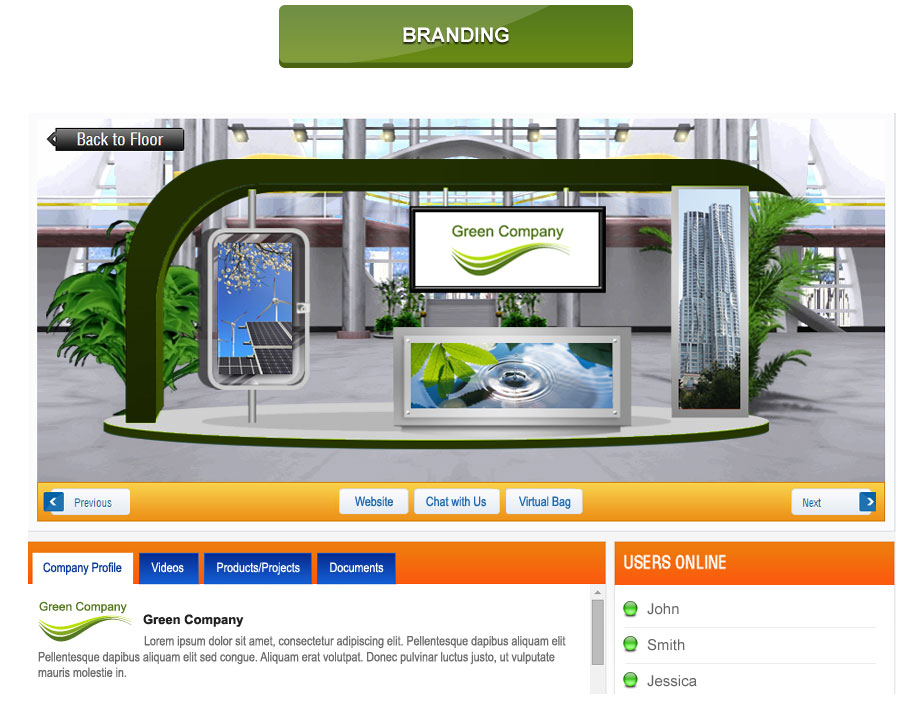 Green Building Expo is budget-friendly for participating exhibitors and free for attendees. Our coverage area is Canada, but being held in cyberspace, exhibitors can reach out to a global audience to generate a high volume of leads and prospects.
Exhibitors can easily interact with attendees through text, audio and video capabilities. The functionality allows both one-on-one and group conversations, thus allowing for meaningful discussions.
Product manuals, demos, brochures, posters, videos and other informational material can be conveniently downloaded by visitors.
In the auditorium, exhibitors can deliver stunning webinars, which can be hosted live or made available, on-demand, to visitors after the event is over. Exhibitors can enjoy greater control in delivering their webinars and drive even higher levels of visitor engagement using social media integration.
Exhibitors will have access to the following information:
Number of visitors to their booth
Number of clicks on their brochures, products, videos, and posters
Contact details for each visitor
Downloaded content
Site traffic, unique and total visits
Number of visitors contacted in chat
Logo on pre and post-event marketing (magazines, social media, website)
Logo at the Information Desk
Logo on Green Building + Architecture magazine website
10 choices of booth templates
Unlimited videos uploaded to virtual booth
Unlimited documents (Word, PDF, Excel) uploaded to virtual booth
Unlimited Chat/Video/Text/Audio representatives users
Detailed report on ROI associated with the event
BONUS: Enhance your presence at the show with a FREE quarter page ad (value $845) in Green Building + Architecture magazine Show Special issue. www.gbplusamag.com

or choose

25% discount of regular price if booking before April 30, 2018

Your virtual booth allows you to showcase your brand, products and services through a customized booth with banners, videos, and documents.